Whether you have lived in Mint Hill all your life or are just visiting, you quickly get the sense of how special our community is. With our proximity to the bustling City of Charlotte, Mint Hill residents and visitors truly enjoy a peaceful suburban lifestyle.
With an abundance of beautiful residential areas, great restaurants, unique shopping opportunities, top-rated schools, excellent medical facilities, intriguing historical sites, and numerous outdoor activities - the amenities are endless.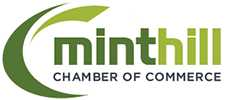 As a business owner in the Mint Hill and Matthews area - there are plenty of networking opportunities to meet local business owners and build vital business connections to strengthen your business' position for growth and prosperity. From monthly luncheons with guest speakers, business after hours, networking 101 seminars and the Mint Hill Business Marketplace... there are many channels to connect, get involved and build awareness of your business, services, products and connect with other businesses.
Welcome to our New Members!