Mint Hill Holiday Pop Up Shop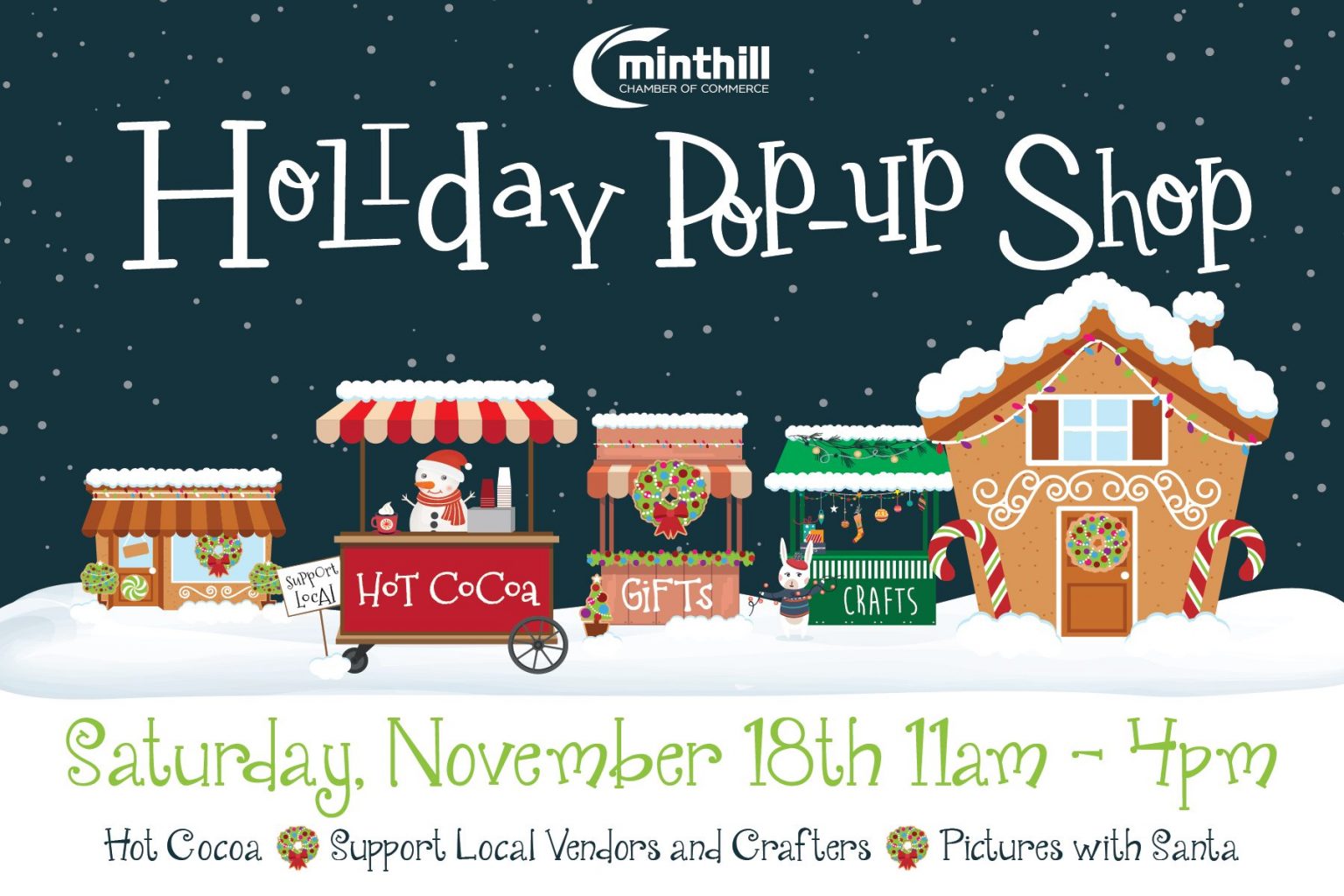 Vendor Fee: $40 for one standard booth space for non-members, $30 for members
Late Fee: Vendors reserving space after November 13, 2023 will be charged a $10 late fee. The Chamber reserves the right to reject any late vendor registrations.
10:00 am – Vendor Check-In, Setup Begins
11:00 am – Pop-Up Shops Opens
4:00 pm – Shops Close
Vendors are asked to be set up by 10:30 am and are not permitted to pack up prior to 4:00 pm unless authorized to do so by MHCC events team.
The Holiday Pop Up Shop is an OUTDOOR event. All vendors are encouraged to bring a canopy tent, and all vendors will need to supply their own tables, chairs and other display equipment.
Booth Size: Booth spaces will be 10'x10'. If your setup requires additional space, please provide details in the notes section of the application. Vendors requiring substantial additional space will be charged for two booths.
Booth Furnishings: All vendors must furnish their own tents, tables, chairs and display equipment as needed. All booths are required to attach weights to their tents.
Electricity: No electricity is available.
Sales Tax: Sales tax of 7.25% must be collected on all sales. You must collect your own taxes. The Chamber of Commerce is not responsible for collecting or paying taxes on products sold.
Beverage Policy: No vendor or sponsor may sell or provide samples of any beverages, including carbonated soft drinks, iced tea, bottled fruit juices, water or alcoholic beverages of any kind without specific advance permission from the Mint Hill Chamber.
Holiday Pop Up Shop Vendor Policies
The Holiday Pop Up Shop will be held rain or shine. In the event of inclement weather, the event will be cancelled.
The Mint Hill Chamber reserves the right to change the location, dates, or hours, or to cancel the operation of the scheduled event at any time and without prior notice to the vendor. The Mint Hill Chamber will make all reasonable efforts to provide advance notice to the vendors of any changes or cancellations.
Only one business or organization may operate in each exhibit space. Sharing booth space with other businesses or organizations, or selling or representing another company's product(s) from your booth space must be approved in advance by Holiday Pop Up Shop organizers.
Event vendors may not sell or advertise their wares outside of their designated area. No booth music is permitted unless approved in advance by Holiday Pop Up Shop organizers.
Vendors must return their area to pre-Holiday Pop Up Shop conditions. The Chamber reserves the right to fine and/or ban from future Holiday Pop Up Shops any vendors causing damage to Holiday Pop Up Shop grounds or adjacent property.
A special parking area will be designated for vendors. Vendors will be permitted to unload items from their vehicle near their designated space, and will be asked to promptly move their vehicle to the vendor parking location. Event vendors are not permitted to park on or near the Holiday Pop Up Shop grounds unless special arrangements have been made with Holiday Pop Up Shop organizers in advance.
Holiday Pop Up Shop personnel will be stationed in the Holiday Pop Up Shop area beginning at 9:30 am and will remain until the last vendor has packed up.
If there arises a situation that renders you unable to participate in the Holiday Pop Up Shop, please notify Holiday Pop Up Shop organizers immediately. Vendor cancellations will forfeit all monies paid to the Holiday Pop Up Shop.
Your vendor application, signed liability release and all applicable fees MUST be received by the Chamber ten (10) days prior to the event. Any vendors whose paperwork has not been returned to the Chamber by this date will not be included in any printed Holiday Pop Up Shop materials, including Holiday Pop Up Shop maps, flyers, and signage.
Return your application early! Applications received prior to preparation of any media placements, press releases and other Holiday Pop Up Shop advertising and promotion, including the Chamber's website and social media, may be promoted as participating in the Holiday Pop Up Shop.
For more information, contact by phone or email: 704-573-8282 or paige@minthillchamberofcommerce.com